Help Support The Site
Your donations help support development and improvements to the site. Thank you for your support!
View Other Content
Search Articles
Recent Articles
1
GOLF CART RENTALS - Disney Fort Wilderness and Off-Site Rentals
With thanks to all the Fort Fiends that have posted their first hand information to the forums, this page will consolidate all the information on renting a golf cart for your stay at Disney's Fort Wilderness Resort & Campground into one place. This page is a work in progress and will be updated with changes, new vendors, reviews, etc.
OFFICIAL FORT WILDERNESS GOLF CART RULES
(@3/16/11 - handout below dated 12/10)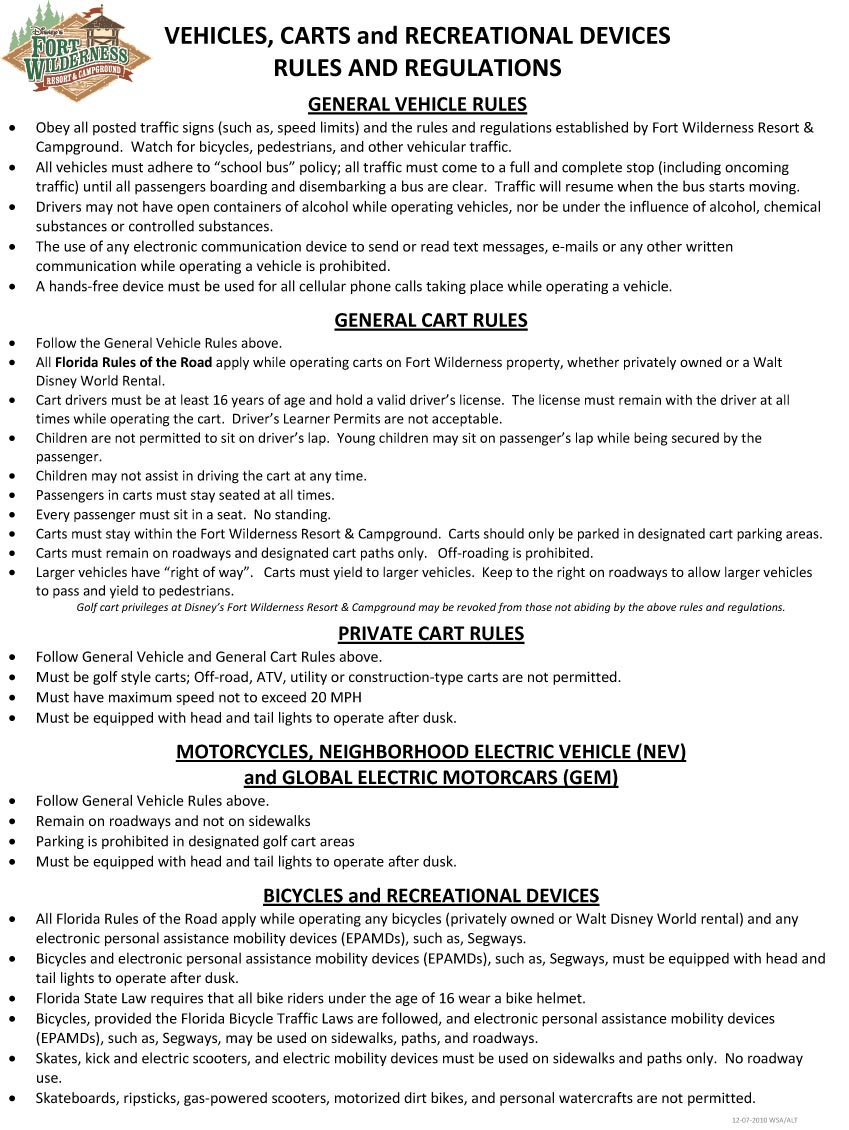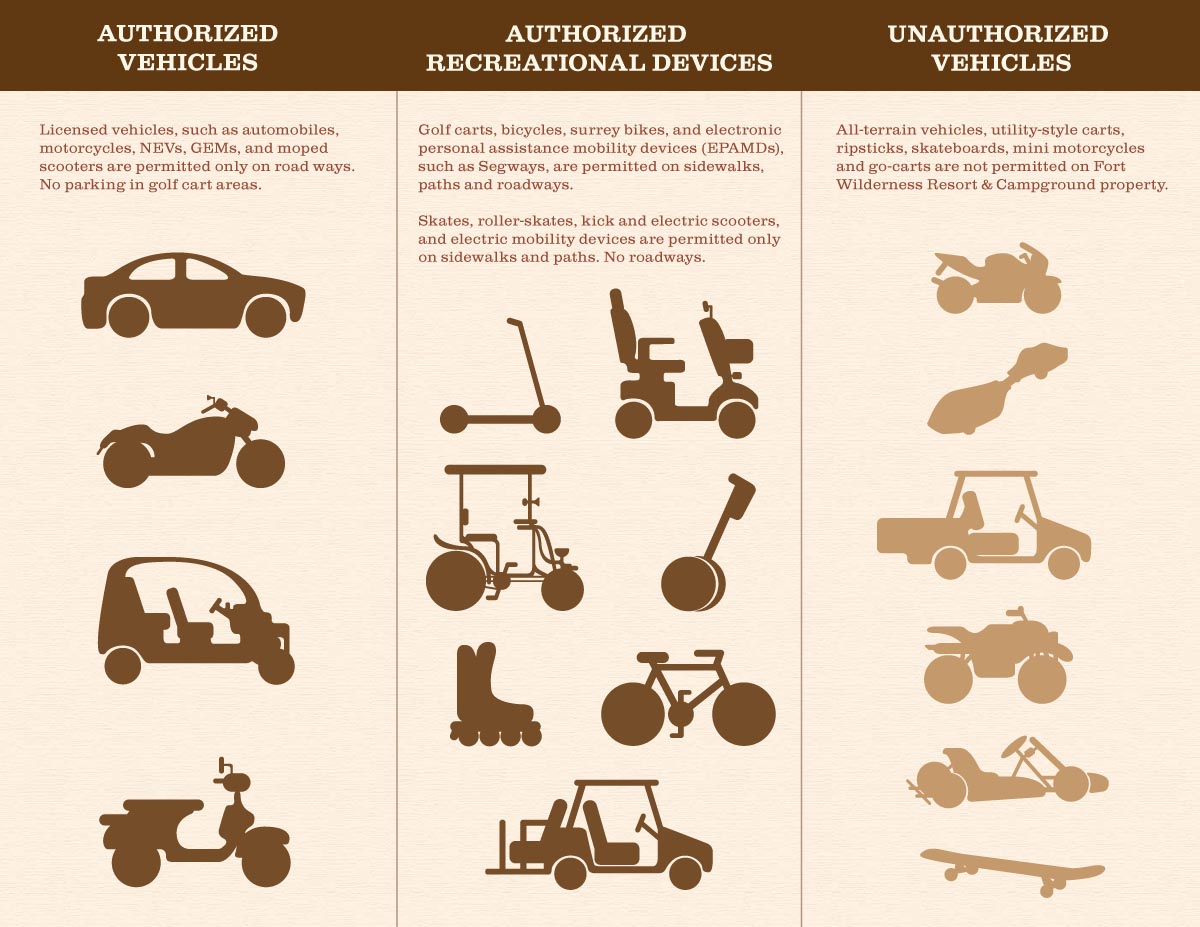 An excerpt from the same handout pertaining to the
TYPES OF CARTS ALLOWED
...
Private carts approved for use in FW

- Must be golf style carts with maximum speed not to exceed 20 MPH
- Must have seating capacity for all passengers on board cart.
- Passengers are not permitted to stand while the cart is in motion
- Must be equipped with head and tail lights to operate after dusk
- Please obey all posted traffic signs, rules, regulations, safety precautions and operational usage grid printed on the back.

NOT PERMITTED - Off road, ATV, Utility or Construction-type carts.
Golf cart privileges at FW may be revoked from those not abiding by the above rules.
All drivers must follow the cart safety precautions.
Large, noisy, or utility type vehicles are not allowed. Must be a golf cart style cart only.
UPDATE
: As of 1/08 leashed pets
are
now allowed on golf carts except in the following areas:
Marina
Settlement area
Pools
Comfort Stations
...and other areas posted "no pets"
OTHER GENERAL GOLF CART FAQs & NOTES:
since the security changes to the overflow parking lot, you should contact the rental company to find out what they need to do in order to deliver your cart.
off-site rental carts are considered "personal" carts and must have the same equipment as the rental carts, incl. windshield, front and rear lights
you do not need to notify Fort Wilderness that you will be bringing your own golf cart or renting one off-site
there is golf cart parking which can be used by any golf cart (personal, Disney and off-site rentals):

On the driveway at your site
Near the marina
Near Trails End and the Hoop de Doo
Near the Meadows Recreation Area and Campfire/Movie
Near the Outpost Bus Stop
Near the Settlement Bus Stop

there are a limited number of recharging stations (plugs) in the golf cart parking areas near Trails End; the Marina; and near the Settlement bus stop
there are no recharging stations (plugs) at the Outpost golf cart parking area
all cabins/campsites have their own accessible plug to recharge your cart
you cannot drive golf carts on any roads outside of Fort Wilderness or on the road/path to Wilderness Lodge
4 seater carts are large enough to hold 4 adults comfortably, but it is possible to squeeze in extras - particularly smaller kids - depending on size. Capacity limits are not posted/enforced. 6 seater carts are available through some outside vendors (see below)
DISNEY CART RENTALS
Disney cart rentals are located by the Fort Wilderness Outpost. Advance reservations are highly recommended and accepted up to one year in advance.
Phone:
(407) 824-2742
Carts available:
4 person / 6 person (limited number, photo below)
Reported rates:
(confirmed as of 1/3/14)
$59 plus tax for 4 person
$79 plus tax for 6 person
Note:
Pickup for golf cart rentals starts at 1pm, return time is 11am.
CALL FOR CURRENT RATES *no discounted rates for longer rentals
Includes:
windshields
Minimum rental:
daily
Cancellation:
call
OFF SITE RENTALS
The vendors noted below have all been used or recommended by Fort Fiends.
FortFiends.net
does not officially endorse any of the vendors noted below.
NOTE:
It's been reported that Disney's official policy is that outside rental companies may not "do business" on Disney/Fort Wilderness property. The companies noted below generally make all arrangement for the actual rental before you arrive at the Fort and each has their own procedures for how they get the cart to you. Since access to the overflow lot at Fort Wilderness is now restricted to those with key card access only, be sure to get details about pickup/drop off from whomever you're working with prior to making your arrangements.
IMPORTANT - please be sure to let these folks know that you found out about them through FortFiends.net.
FOR ALL VENDORS BELOW, PLEASE CALL TO CONFIRM CURRENT PRICING!
===============
THE GOLF CART SHOP SUN CITY (FORMERLY ALUMACAR SUN CITY)
**FortFiends.net Sponsor**
Contact:
Rich & Matt
Phone:
813-634-2278, 813-766-7138
Fax:
?
Email:
[email protected]
Website:
www.golfcartsuncity.com
Facebook:
The Golf Cart Shop Sun City
Carts available:
2 and 4 passengers
Rates:
Call for current rates.
Includes:
call
Minimum Rental:
daily
Cancellation:
call
Notes:
Be sure to tell them you saw them here as The Golf Cart Shop Sun City is a sponsor of FortFiends.net
Reviews & More Info:
http://www.fortfiend...t-sales-rental/
===============
BEACHLINE GOLF CARTS - now also renting scooters
**FortFiends.net Sponsor**
Website:
www.beachlinegolfcarts.com
Phone:
407-285-9007
Golf cart rentals
• Free delivery with a 3 day rental
• Weekly and monthly rentals
Scooter rentals
We also rent Pride mobility scooters:
• The
Pride Victory 10
and the
Pride Elite Go-Go Traveler
have a weight limit of 300lbs. Rental cost = $20.00 per day
• The
Pride Maxima
has a weight limit of 500lbs. Rental cost = $25.00 per day
===============
TEE TIME GOLF CART RENTALS
Contact:
Kenny
Phone:
407-276-0809
Fax:
?
Email:
[email protected]
Website:
www.teetimegolfcarts.com
Facebook:
http://www.facebook....183001445132187
Carts available:
4 & 6 passenger
Rates:
Call for current rates. Discounted rates offered for longer term rentals
Includes:
delivery (6am - 9pm), taxes, plastic rolldown rain shield, head & tail lights, and a windshield.
Minimum Rental:
call
Cancellation:
call
Notes:
Tee Time is a small operation and you may need to call a few times before you get through. That said, all reports are that once you've made your arrangements with Kenny, his customer service is excellent.
Tee Time books quickly, especially during busy times of year. Make your reservations early!
If anyone gets updated information on what's here, including current rates, photos, etc., please PM BradyBzLyn12
Article: GOLF CART RENTALS - Disney Fort Wilderness and Off-Site Rentals