Help Support The Site
Your donations help support development and improvements to the site. Thank you for your support!
View Other Content
Search Articles
Recent Articles
0
Miscellaneous
Please support the sponsors of FortFiends.net listed below:
=========
Fort Camper Rental


Website:
www.fortcamperrental.com
Phone:
319-899-9461
The Easy & Affordable Way to Stay!
• We setup
Large
Pop Ups at Fort Wilderness for you
• Sleep up to 8 with a/c and heat
• We supply your camping needs
=========
Meacham's RV


Website:
www.traveltrailerrent.com/disneys-fort-wilderness-rental-packages.html
Phone:
941-224-4939
A variety of campers and camping packages available.
• Full service delivery, setup and removal
• Fort Wilderness camping packages available
=========
MouseCounselors
Jason Adams
Email:
[email protected]
Phone:
800.936.3183 ext 704
A full service travel agent specializing in Reservations for Walt Disney World, Disneyland, Disney Cruise Line, and Adventures by Disney
=========
Stitchworks

Website:
http://www.stitch4u.com
Phone:
772-285-5869
A business that specializes in toddler and infant jerseys that are customized by the customer and made to order. They also make youth, dog and adult jerseys to order as well.
=========
If you would like to sponsor FortFiends.net, please see this page for more information...
http://www.fortfiend...-fiendsnet-r244
Read story →
5 comments
Below is the flyer showing approved fire pits that is handed out to Fort Guests.
HELPFUL TIP:
The Fort will deliver firewood to Guests who have an approved fire pit. Contact the Front Desk. For a photo of roughly what you get for $24, see
this thread
from January 2013.
(With thanks to FortFiends.net member TCD!)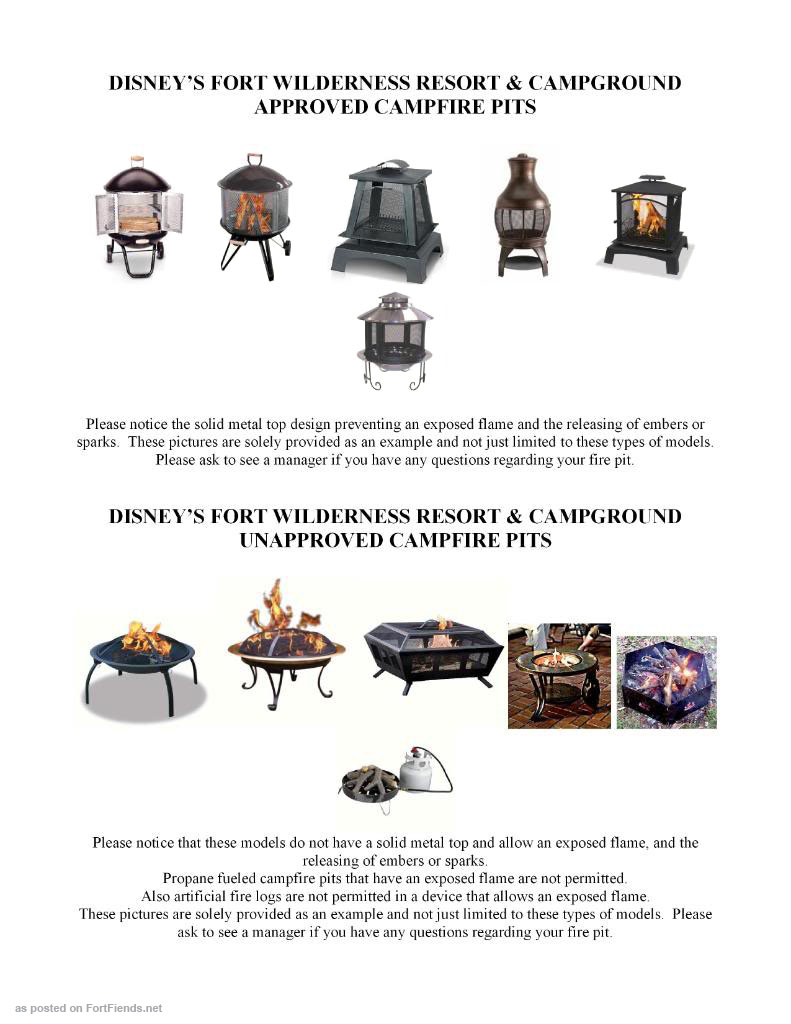 Read story →
2 comments
Step-by-step instructions on how to setup and air conditioner in a tent.
Read story →
0 comments
For anyone interested in getting the wooden Musket Mickey Camping signs, they are made by Fort Fiends member BayLake Campers - you can PM him here for more info...
http://www.fortfiend...aylake-campers/
For a photo of some of Warren's handiwork...
http://www.fortfiend...-sign/?p=267139
PLEASE NOTE:
Some of you may have seen older versions of these signs with some variation of "Fort Fiends" on them. Because FortFiends™ is now trademarked, and we do not want to step on any legal toes with the folks at Disney, we must ask that any signs that contain Disney characters or other Disney trademarked graphics are NOT combined with the FortFiends name. Thanks!
Read story →
0 comments
Want to reach a targeted, active audience with an interest in all things Walt Disney World, Fort Wilderness and Camping? Advertise on one of the fastest growing message boards on the internet.
Read story →
0 comments
The following businesses are all owned and/or operated by Fort Fiends. If you are a Fort Fiend® and would like to have your business listed here, please PM BradyBzLyn12 with your information.
=========
Stitchworks
Fort Fiend:
AuburnJen
Website:
www.customfbjerseys.com
Facebook:
http://www.facebook....rks/93888391414
Description:
Customizing in customer designed football, basketball and baseball/softball jerseys. Customer picks out every detail. Stitchworks specializes in toddler uniforms, as they make them in-house from newborn to 5T. Sizes in youth and adult go up to 6X. Stitchworks also has done custom embroidery and applique work for fraternal organizations, businesses and personal use for over 20 years.
=========
We Camp Here
Fort Fiend:
Lil Lisa
Website:
www.wecamphere.com
Facebook:
https://www.facebook.com/WeCampHere
Store:
http://shop.cafepress.com/we-camp-here
Description:
This is where happy camping begins. Find a campground using our interactive campground search, read reviews or share your opinion of a campground with others. The number of campgrounds in our database is growing every day, but if you know of a campground that we don't have listed, please suggest it to us. If you are new to camping, or if you are just looking for a new recipe or a helpful tip, be sure to check out the We Camp Here blog.
=========
FortCamperRental.com
Fort Fiends:
Bord1niowa & LuvThoseVillains
Website:
http://fortcamperrental.com/
Phone:
319-899-9461
Description:
Renting pop ups exclusively at Disney's Fort Wilderness Resort and Campground, FortCamperRental.com makes it easy to have that vacation experience by setting up the RV for you, and taking it down when your vacation is over. Campground spaces can accommodate up to 10 people per site... making this a very affordable choice for larger families.
Pop up camper rentals sleep 8 people with basic amenities, like cooking stove, Air Conditioning, Furnace, (for those infrequent cool nights), refrigerator, running water and more.
One of our pop ups has a slide-out dinette and roomy wrap around couch too! There is an awning in front to protect you from the hot Florida sun and rainy days.
We supply your basic needs like towels, bedding, pillows, foam plates, utensils, cups, basic cleaning needs, pots and pans for cooking as well as the propane needed. We also supply use of other "Magical" items in a theme of your choice.
For those flying in, we can also fill a list of your food and drink items during your stay. Just make sure we have the list ahead of time and it will be waiting for you when you arrive. (no alcoholic beverages please)
Read story →
3 comments
Curry Coconut Chicken
Ingredients:
1 onion
1 can pineapple (in juice, not syrup)
1 can coconut milk
chicken thighs (or the parts of your choice)
curry powder
(optional - potato cut into 1/2" dice)
note:
if the curry powder mix you're using has salt in it, don't add any extra
Cut up onion and pineapple (if you bought chunks, use as is), throw in crock pot and sprinkle with salt and curry powder. (add potatoes now)
Take the skin off the chicken (gets too greasy in the crockpot), sprinkle liberally on both sides with salt and curry powder and rub in.
Stack chicken loosely in crock pot, pour half of the remaining pineapple juice and the entire can of coconut milk over everything. Smear it all around so it's well mixed. If you want, sprinkle a little extra curry powder on top.
Cook on low - time depends on chicken. I did a family pack of thighs and it took 7 hours.
Great over white rice.
From FortFiends.net member BradyBzLyn12...Monique
Read story →
0 comments
S'mores and More...
Reeses Peanut Butter Cup S'mores
Use a peanut butter cup instead of a Hershey bar.
Shortbread S'mores
Use shortbread cookies instead of graham crackers, use nutella or hazlenut spread instead of chocolate.
Grilled Poundcake S'mores
from
Zombie Squad
1 (10.75 oz) frozen pound cake — thawed or you could use one of those snack type pound cakes that are individually wrapped in plastic (single serving type thing)
1 cup marshmallow cream
1 cup (6oz) semisweet chocolate morsels
Slice cake horizontally into 3 layers. Place bottom layer on a large sheet of heavy-duty foil; spread with 1/2 cup marshmallow cream, and sprinkle with 1/2 the morsels. Repeat procedure, ending with third cake layer. Fold edges of foil to seal securely. Grill, without grill lid, over low heat (under 300 degrees) 7–20 minutes or until warm. Slice and serve immediately.
From FortFiends.net member OnkelHans
Read story →
0 comments
Crockpot Salsa Chicken/Pork
This can be done with chicken breast or pork chops I use pork chops since im allergic to chicken..
Ingredients:
salsa
2-4 chicken breast or pork chops
taco seasoning packet
cream of mushroom soup
i also use the philly cream cheese santa fe new cooking creme stuff
dump it all in the crock pot put on low
eat over rice or mashed potatoes mexican shredded cheese and sour cream as desired
From FortFiends.net member DoctorDalek
Read story →
0 comments
Crockpot Pot Roast
A piece of meat, rump roast, or anything you may have on hand.
Add some water.
Cut up some taters, or add small new potatoes
Add carrots
Add onion
Add mushrooms
Add celery if you have some
Look through your spice cabinet and dump anything you desire in there. Examples black pepper, oregano, garlic, salt, parsley, pretty much any of the "green" spices.
Let simmer on low for 8 to 12 hours, YUM!!!!
From FortFiends.net member mousketab...Carol
Read story →
1 comments