I went to Shady Grove Campground, a local Lake Lanier campground, to check it out for some camping this summer. I've never stayed there or even been there, which is surprising because I've camped at several on the lake. I think I forget about it because it's one of the few on the lake not run by the Army Corp of Engineers, and they don't have online reservations. Anyway, I like what I saw, so I'll be returning soon.
Pros: inexpensive, on the lake with lots of great views, redone area is nice, very nice playground, ability to beach boats at campsites, large sites that can accomodate an RV plus a tent or two
Cons: can only book 30 days out, have to book by phone (770-205-6849), no sewer or cable, many older sites are difficult to get into if you have a big trailer or class A/C (sites are big just tricky), "no alcohol allowed" (local tip- just put it in a solo cup and no one says anything; all the gov't owned campgrounds on Lanier say that)
Here's a map:
http://www.forsythco...f campsites.pdf
Daily fees for use of the campground are as follows:
30 amp electric site with water - $26.00
50 amp electric site with water - $28.00
Tent camping site with no hookups - $18.00
Check in time for reservations are guaranteed after 4 p.m. Check out time is 3 p.m. The park gates are locked from 10 p.m. to 7 a.m.
I didn't take many pictures, but here they are. Sites 70-103 were redone recently and are much nicer sites. I basically took pictures of the 2 I liked the most and the playground. There were actually other nice sites I saw after this, but my 3 year old was ready for a nap.
The playground on the site mentioned above
Site 87… notice the paved pad for an RV, plus plenty of room for a tent or 2 on the lower pad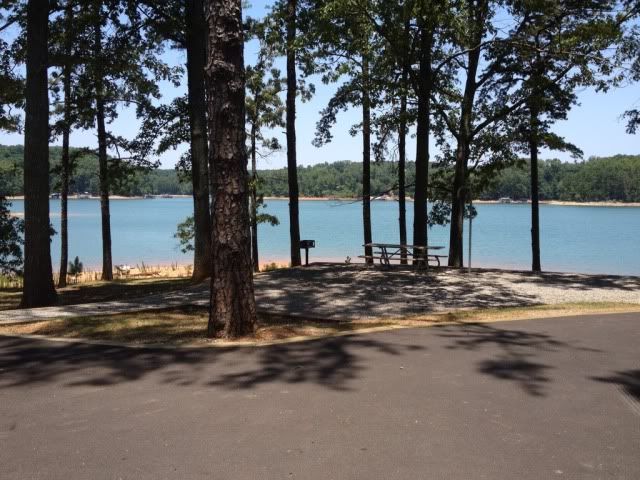 Site 88… also very large with lower pad